Singular Tales from Uncommon Journeys: Monferrato
Italy… How lucky I am to follow my own compass throughout this gorgeous peninsula, looking for the unusual, the breathtaking and the sublime. While I justify this rambling as research on behalf of my clients, it's only part of the story. Travel for me is one of the most liberating and uplifting things in life – and I bet it is for you too. Would we be fully human if we weren't curious about what's beyond our day-to-day boundaries, if we didn't want to listen to the inner voice tempting us to places unknown, if we didn't search for beauty and then linger in its wake, smiling and in awe? After all, we inherited the double helix strands that prompted the ancients to leave their hearths for distant horizons….  
When COVID had us hunkered down, I couldn't wait to get out and explore, so come autumn 2021, I wandered near and far, discovering and rediscovering my beloved Italy. I particularly sought out both UNESCO World Heritage Sites – Italy has more than any other country – and charming towns and villages, which I believe will be the foundation of future tourism. It's not that the Roman Colosseum will ever lose its draw, but visitors will be emboldened to go beyond what 'everyone-must-see', to find the more elusive, the very special 'what-very-few-have-seen'!
Over the next few months, I will share some of my autumn discoveries, starting here, in the region of Piedmont, which is in northwest Italy – south of the northern Alps, in between France and Lombardy and just north of the where the arching Ligurian Alps meet the Apennines. Specifically I went to the Monferrato area, one of Italy's most important wine districts with numerous DOC and DOCG wines. For you oenophiles, these include reds like Barbera d'Asti, Dolcetto d'Acqui, Grignolino del Monferrato Casalese; whites like Cortese and Piemonte Chardonnay, and of course the world famous sparkler, Asti Spumante. Wine tasting, combined with an authentic and delicious regional cuisine, is only one of Monferrato's temptations; still, I want you to picture me with a smile on my face, swirling, sipping, tasting, learning and chatting in the company of local winemakers.
One of Monferrato's particular attractions is its Infernots, wine caves dug by hand into the hills over 200 years ago. Today many Infernots have been transformed into tasting rooms – cellar doors, they call them in some countries, symbols of a cherished local culture, full of ambience. Many are located under privately owned buildings, but their owners open them, eager to welcome visitors with a glass of local heritage.
This is a land of undulating hills of vines, row upon row in distinct blocks of green, interspersed with darker forest. The scattered towns and villages rise from this backdrop like bakery confections, iced with towers, spires and tiled roofs, and overlooked by medieval fortresses. It's little wonder that UNESCO named Monferrato a World Heritage Site for its vineyard landscapes. It is a place that begs for country walks, slow explorations by bicycle, or impromptu stops by the side of the road because it's impossible to keep your mind on driving when so much beauty is unfolding through your windshield…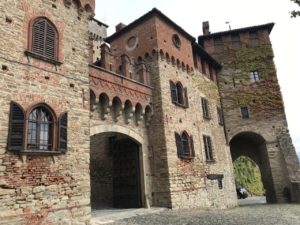 This is ancient territory, full of history, archeology and art. Monferrato (Montferrat in English) comes from the Latin – Mons ferrato, 'iron mountain.' Its towns are a timeline of historical eras, from before the glory of Rome through the tumultuous 19th century unification of Italy – Casale Monferrato, Asti, Novi Ligure (famous for its chocolate) and Acqui Terme, named after its Roman baths. It is also a literary wellspring – home to, among others, the 18th century poet and playwright Vittorio Alfieri, and the world-famous contemporary novelist, Umberto Eco, who surely drew inspiration from its ancient walls.
And all this scenery and culture and winemaking are near at hand, within an hour of Milan, Turin, Genoa, Lago Maggiore and Cinque Terre!
Monferrato and the surrounding areas in Piedmont are just some of the places I can show you. Storywalking specializes in taking open-to-anything, curious visitors to unique, less visited places, even as we can show you Italy's most famous sights. We believe that Italy is best seen at a walking pace, with time to point out details that enrich the story and deepen the plot.
CONTACT US for a private tour in Italy! Storywalking would be glad to help you lay the foundations of your lasting memories.
Our services:
Accommodation services (hotels, apartments & private villas)
Package tours (complete custom itineraries for individuals, couples & small groups)
Daily tours on an ad hoc basis
Tour guiding in English, French, German, Spanish
Transfer services (luxury cars, minivans)
Luxury tailormade services
Let's start – Send me an email at jessica@storywalking.tours.
Ciao until next month,
Copyright © All rights reserved.