Singular Tales from Uncommon Journeys: Cremona
What do wine, cheese and violins have in common? Pleasure, of course! That's why I chose them as the first subjects of my singular tales from the road.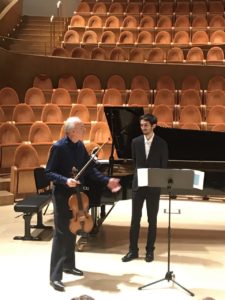 I wrote about Monferrato in Piedmont, a UNESCO World Heritage Site for its stunning vineyard vistas. Monferrato produces world-renowned DOC and DOCG wines, and its wonderful farm-to-table cuisine, its hand-dug wine cellars full of ambience, and its ancient history make it fascinating to visit. But few travelers go there! So naturally this uncommon journey was one of my first choices.
As I contemplated my next move, I received a timely invitation from the Cremona Turismo. Cremona is a small city in Lombardy synonymous with stringed music, located on the Po River about an hour southeast of Milan by car or train. It is another UNESCO awardee, recognized for its cultural tradition of violin craftsmanship – although it is certainly could have won the accolade on its beauty and history alone. The city is inextricably bound to the lives of famous luthiers (what you call people who craft bowed stringed instruments) who lived four and five centuries ago – geniuses like Guarneri, Rugeri, Stradivari and Amati. An Amati or Stradivari violin from the 'golden age' of 1700-1720 will sell at auction for millions of dollars. Today craftsmen continue this tradition, and Cremonese violins, violas, cellos and double basses are prized the world over.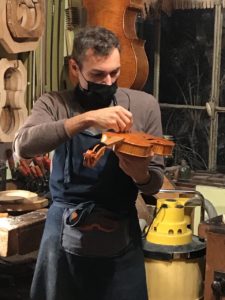 During my three days in the "City of the Violin" I visited the Museo del Violino, with its modernly displayed, warmly lit collection of precious instruments. Later I felt a thrill rush through me as the clear, soaring notes of a 17th century viola swelled to fill the Museo's acoustically perfect concert space. But perhaps most memorable was my conversation in a violin maker's workshop. He spoke of his family's proud heritage and described how his instruments are meticulously fashioned – only 3 to 6 per year. Haste has no place in the creation of sublime sound! Not surprisingly, his precise craft is regulated by two supervisory bodies – the so-to-speak DOCG of violins.
It takes more than 70 pieces of molded wood, each of which is put together by hand, to create a violin – there is no assembly line when it comes to Cremonese violins. Different varieties of wood are carefully selected, hand-seasoned, cut and molded. It is like a 3-D jigsaw puzzle, with different woods chosen for their unique properties and for their harmony with those already assembled. Everything has a function, including parts that may seem purely ornamental but have other roles to play – enhancing sound projection, fine-tuning the tone or protecting the instrument. Furthermore, no two creations are exactly the same, and each is a paean to the maestro's skill. Now if only I could play…
From ears to palate, the trip continued.  I visited a dairy where artisanal cheese makers produce Grana Padana, "milk turned into art," a process that has its own Protected Designation of Origin – PDO (DOP in Italian.) Here pampered cows are treated like the queens they are, transforming the sweet grasses and clear water of the Pianura Padana (the Po Valley, Italy's famous agricultural region) into one of Italy's favorite cheeses. Grana Padana is organic, sustainably produced, lactose-free (!), kosher, long-lasting, crumbly, milder and less nutty than Parmigiano. Did I mention delicious! Great with wine and food! Its production is a combination of art and science, and its long ageing in cooled facilities is another kind of art – cheese rounds stacked floor to ceiling, almost sculptural and architectural, a sight to see! It is so good, so Italian, so special, I offer it as a virtual packaged tour under my EATales label, with the 'package' being wedges of Grana Padana delivered direct to your door!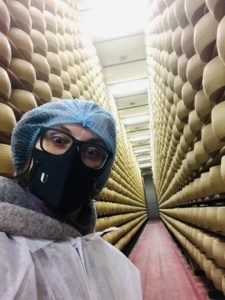 Cremona and the surrounding areas are just some of the less visited places I can show you. Storywalking specializes in taking open-to-anything, curious visitors to unique destinations, even as we can show you Italy's most famous sights. We believe that Italy is best seen at a walking pace, with time to point out details that enrich the story and deepen the plot.
CONTACT US for a private tour in Italy! Storywalking would be glad to help you lay the foundations of your lasting memories.