Singular Tales from Uncommon Journeys: Verona
My last Singular Tale, part of my later-day Grand Tour, came to you from Padua. From there I ventured 52 miles (84 km) to the west, across the fertile Veneto plain to the ancient city of Verona.  
Say "Verona" and the first thought that comes to mind is not UNESCO World Heritage City, not VinItaly, one of the world's premier wine events, and not the open-air, summer-long Verona Opera Festival. No, outside of Italy Verona is mostly associated with William Shakespeare's Romeo and Juliet. If such a story happened today, it might produce this tabloid headline: "Three-day love affair between 13-year-old and 17-year-old results in six tragic deaths." Shakespeare did not shy away from an unhappy ending, nor from locating the play in a country that he had never seen. In all he based a third* of his plays in Italy! Here is my explanation: Shakespeare was surely inspired by romantic images of Italy, brought back to England by early adopters of the Grand Tour.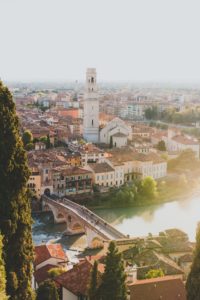 From the terrace you'll look out over a panorama that will take your breath away – perhaps the reason why Julius Caesar, Petrarch, Pliny the Elder, Dante, Giotto, the Venetians, the Austro-Hungarians and now YOU chose to come here? Immediately below is the Teatro Romano, built in the first century BCE. Its statues and marble stage disappeared long ago but if you listen carefully, its arced bowl of white marble seats still echo with ancient applause. Or is that the breeze stirring the cypress trees along the Fiume Adige?
The Adige flows through the city on its journey from the Alps to the Adriatic, and is crossed by the timeless, arched Ponte Scaligeri, a bridge still in use thanks to extensive reconstruction after WWII. Across and around the river – the red tile roofs, spires and domes of this prosperous city, swelling out in all directions.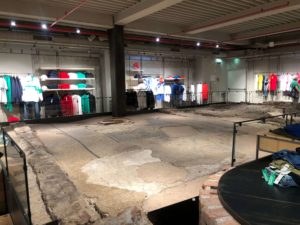 Verona thrived at the crossroads of the Po Valley since Roman times, and that Roman city is still there, intact, six meters below your feet. Its mosaics and statuary emerge periodically during pipelaying or renovations. Be sure to visit the Benetton shop at via Mazzini 41. An excavated Roman domus can be found on its lowest level, a backdrop for the menswear collection! Outside, via Mazzini's trendy shops feature many of Italy's exclusive brands – this is deep-pocket shopping, but the window-shopping is free and the people-watching is a delight. Befitting such luxury, the street is paved with marble, rescued and repurposed from Roman ruins.
Verona is right behind Rome in terms of existing Roman-era structures. In Piazza Brà, the Arena is one of the world's best-preserved ancient amphitheaters, the third largest after Rome's Colosseum and a Naples-area arena. Although the outermost layer collapsed in an earthquake in 1117, the iconic arched infrastructure and seating survives to this day. Its 44 marble tiers once sat 25,000 spectators for gladiators and mock naval battles. Then it was a venue for executions and bullfights. Today it hosts 15,000 for Verona's candle-lit summer Opera Festival, featuring world-renowned divas and divos – and the occasional Elton John and Pink Floyd. The site's natural acoustics are so spectacular that a sound system wasn't installed until 2011. The Arena will host the Winter Olympics Closing Ceremony and the Paralympics Opening Ceremony in 2026.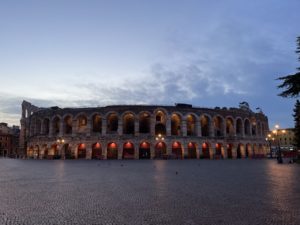 Verona prospered through the Medieval and Renaissance years, particularly under the powerful Scaligeri family in the 13th and 14th centuries. Scions of the family became patrons of literature, the arts and architecture, leaving behind monuments such as Castelvecchio, built in 1355 (today an excellent art museum) and Palazzo della Ragione with its frescoed Loggia del Consiglio. Naturally (after all this is Italy!) the city has many beautiful churches – the Duomo with its impressive Romanesque portals (begun in 1139); San Fermo Maggiore, a two-part church, upper and lower, with the upper building having a ship's-keel roof; and San Zeno Maggiore with its prominent tower, dedicated to Verona's patron saint.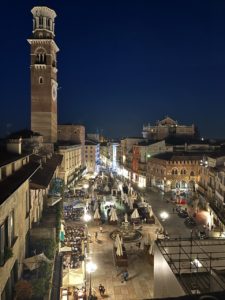 The old city's piazzas stand atop ancient Roman forums and marketplaces. Piazza Erbe has been an outdoor market for 2000 years and Piazza dei Signori is encircled by historic buildings. There is a lot to see. When it's time to wind down, settle in for a delicious risotto flavored with Amarone in a cozy trattoria. Amarone is a rich dry red wine from Valpolicella, a province of Verona… On my next blog, I'll take you there.
You've been reading about my Grand Tour. When you plan your own, let Storywalking show you Italy's uncommon side, with tours full of nuance and detail, tailored to your interest. We believe that Italy is best seen at a walking pace, with time to point out details you probably would not notice on your own, details that enrich the story and deepen the plot.
* Shakespeare's Italy-based plays: All's Well that Ends Well (Florence), Julius Caesar (Rome), Much Ado about Nothing (Messina), Othello (Venice),
Romeo and Juliett (Verona), The Merchant of Venice (Venice) and The Taming of the Shrew (Padua).
CONTACT US for a private tour in Italy!
Storywalking would be glad to help you lay the foundations of your lasting memories.
Our services:
Accommodation services (hotels, apartments & private villas)
Package tours (complete custom itineraries for individuals, couples & small groups)
Daily tours on an ad hoc basis
Tour guiding in English, French, German, Spanish
Transfer services (luxury cars, minivans)
Luxury tailormade services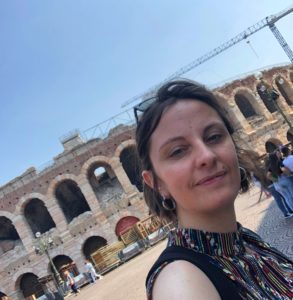 Copyright © All rights reserved.