Pupazza Frascatana: Legend and History
While exploring the Lazio region, you will be lured into the bakeries by the smell of fresh bread and pizza, as well as other authentic Italian surprises.
When you are scanning the display case looking at all of the delicious and colorful sweets, you may come across a particular cookie that will definitely catch your eye.
That cookie is the pupazza frascatana and it famous for having the form of a woman with three breasts.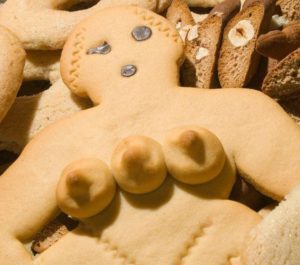 Why the third breast?
The shape of this curious cookie is based off the legend of a midwife that could calm down even the loudest crying baby as her special third breast produced wine– not just any wine though, Frascati wine.
She is also known as a symbol of abundance in the Lazio region. You will see these cookies in the windows of every bakery and food shop while strolling the streets of Frascati, the city right outside of Rome famous for their wine and the birthplace this local legend.
An original way to savour the 'abundance' that the pupazza cookie symbolizes is to enjoy it with a glass of Frascati wine.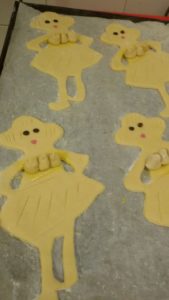 A famous family-run bakery in Frascati that make this local specialty also produce their own Frascati wine.
Oreste, a brother of the Antico Forno Molinari, hosts guests at their vineyard to share stories about their family's wine-making tradition while on a tour of their land.
The guests are invited into a rustic cottage on the property for a wine tasting paired with homemade delicacies from the family bakery, including the pupazza frascatana.
If you are interested in the opportunity to taste a piece of Roman folklore and family wine-making traditions in a gorgeous vineyard setting, check out this link: Contadina Breakfast
Pupazza Frascatana: Ingredients and Receipe
Ingredients
500 grams Acacia's honey
250 ml of olive oil
1/2 teaspoon of orange flavoring
flour 00
In this video you can see how to make your owm Pupazza: